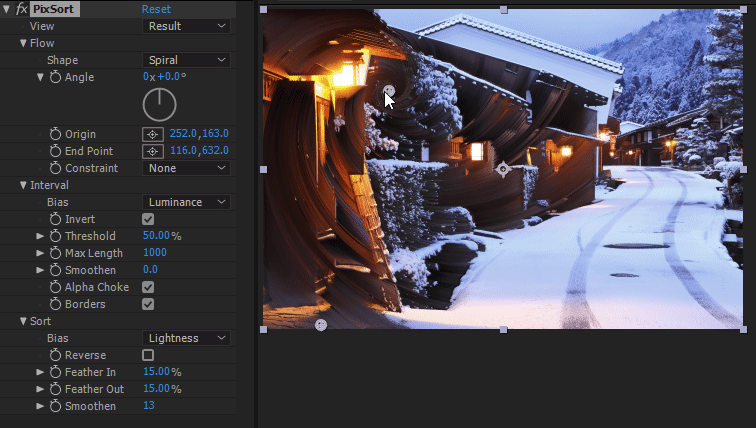 PixSort
A downloadable Plugin for Windows and macOS
PixSort brings the popular "Pixel Sorting" algorithm into a fully motion-capable and customizable Adobe After Effects plugin.
---
Features:
Choose from several different threshold biases to carefully adjust where these intervals happen. Each threshold mask is able to be inverted, smoothened, and culled to allow an even more careful control of where your pixel sorting is taking place.
Luminance
Hue
Lightness
Saturation
Red,Blue,Green,Alpha
Choose from several different biases available when sorting spams of pixels. Sorting biases are all available in reverse orders as well.
None(for the reverse feature)
RGB Summation
RGBA Summation
Red,Blue,Green,Alpha
HSL Summation
HSLA Summation
Hue
Lightness
Saturation
Luminance
Inphase Chrominance
Quadrature Chrominance
v1.1 Update!
Now supports several vector field shapes! All the sorting intervals can now follow a specific pattern(currently features circular and spiral) or a constant linear slope at any arbitrary angle.
Intervals can now be smoothened for an even more gradiated pixel sort.
Intervals can now be feathered at either end of the interval so that each span can blend back into the original image.
Borders may now be omitted or included in the Pixel sorting.
Plenty of bug-fixes and speedups!
v1.2 Update!
Support for 8-bit,16-bit, and 32-bit floating point color depths!
Four new vector field shapes

Metaphase-Attract
Metaphase-Repel

Dipole-Attract
Dipole-Repel

Additional "Constraint" option to align vector field directions during iteration
Bug/Optimizations fixes and multi-threaded speedups!
---
This plugin is in development and will be updated with more features to come!
Supports:
CC 2023
CC 2022
CC 2021
CC 2020
CC 2019
CC 2018
CC 2017
CC 2015
CC 2014
CC
CS 6
CS 5.5
Mac OSX version 11.00 or above required. Intel and Apple-Silicon supported!
This plugin is not compatible with Adobe Premiere.
If you encounter any bugs or wish to provide feedback be sure to hit up the community website!
Purchase
In order to download this Plugin you must purchase it at or above the minimum price of $15 USD. You will get access to the following files: