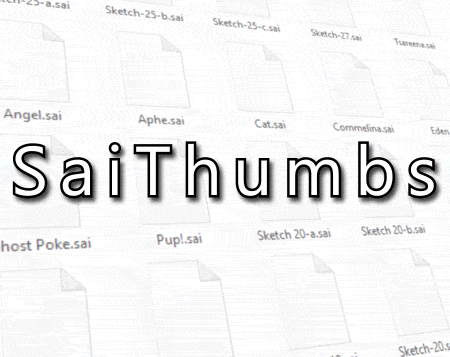 SaiThumbs
A downloadable extension for Windows
SaiThumbs is a FREE Windows shell extension that will allow you to have thumbnails for .sai files produced from SYSTEMAX's PaintToolSai!
---
Download the appropriate archive for your architecture of Windows(find out which architecture you're running here!). Chances are you are running an x64 bit version of Windows so you'd download SaiThumbs-x64.zip.
Unzip the archive somewhere the SaiThumbs.dll file can stay

You can drag it next to your sai.exe installation( such as in C:/PaintToolSAI/ ) for convenience of keeping everything sai-related in one place.
Copy "install.bat" and "uninstall.bat" along with it so you can easily enable/disable it

Double click on "install.bat" to install
That's it!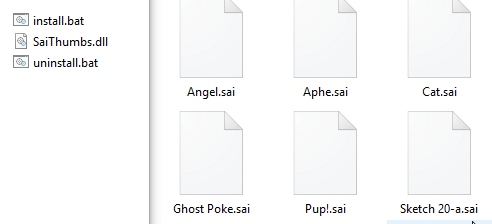 Double click on "uninstall.bat" for when you want to remove SaiThumbs.
Simple as that!
Download
Click download now to get access to the following files:
Comments
Log in with itch.io to leave a comment.
Really looking forward to a potential fix for sai2-files :3
Great extension :) Glad i helped fix the issue.
Hi, I'm having trouble with this, could you help?
The issue is I keep getting this error and I don't know what to do or what I did to make it not work.
I installed it before and it worked fine, now after I did a factory reset of my computer, it won't work.
i made an account just to reply to this because i was having the same issue
i clicked "uninstall" and was met with a popup telling me to extract all the files, which i did to a folder under the same name; everything looked Exactly the same. then i tried to install again and it worked! i hope this works for you too
idk if its relevant or not but im running a 64 bit system
I made an account just to say a big ol' THANK YOUUUUU!!
this is incredible, and I'm so so thankful for this! it'll make organizing my files through Explorer, rather than through Sai, sooo much easier ;u;
also, I tried to pay through Paypal but it's telling me "We can't process your payment right now, so please try again later. We're sorry for the inconvenience." :<
do you know why that might be? you deserve my DOLLARSS
Oh man I have no idea why...
This seems to be an issue that some other users ran into when trying to send me money through PayPal and I haven't noticed any consistency between them all to identify why this might be happening..
Maybe this page can work?
Thank you so much for this. This is a blessing in these dark times. Thank you 1000 times.

Awesome work! Do you think you'll be able to make ".SAI2" files work with this too?
I've reverse engineered Sai 2 a bit but not enough to map out the newer sai2 file format yet.. Since sai2 is actively being developed too I'll very likely have to "wait" for Sai 2 development to "settle down" for a little while before I go diving into the file format since one update SYSTEMAX makes can potentially break any confident research and tools I made at a specific version...
I'll look into it more in the future since the file format is probably not going to be changing drastically any time soon but we'll see!
Do you know about how different the settings2.ssd file is in SAI 2? I wanted to make a brush import/export tool. I have been working on decrypting the file for the last couple days before I came across this.
I haven't had much motive to reverse engineer Sai2 that much since Sai1 is still very much more popular but it possibly uses some improvements on the Sai1 format.
Well, I'll keep working on it, unfortunately my reverse engineering skills are terrible so it's really slow progress haha. I'd love to work with you if you're interested but I understand there's not much purpose yet. What tools did you use to reverse engineer SAI? I'm using IDA + WinDbg and a crappy hex editor... This page isn't great for extended talking though, email me if you want (myusername)@gmail.com.